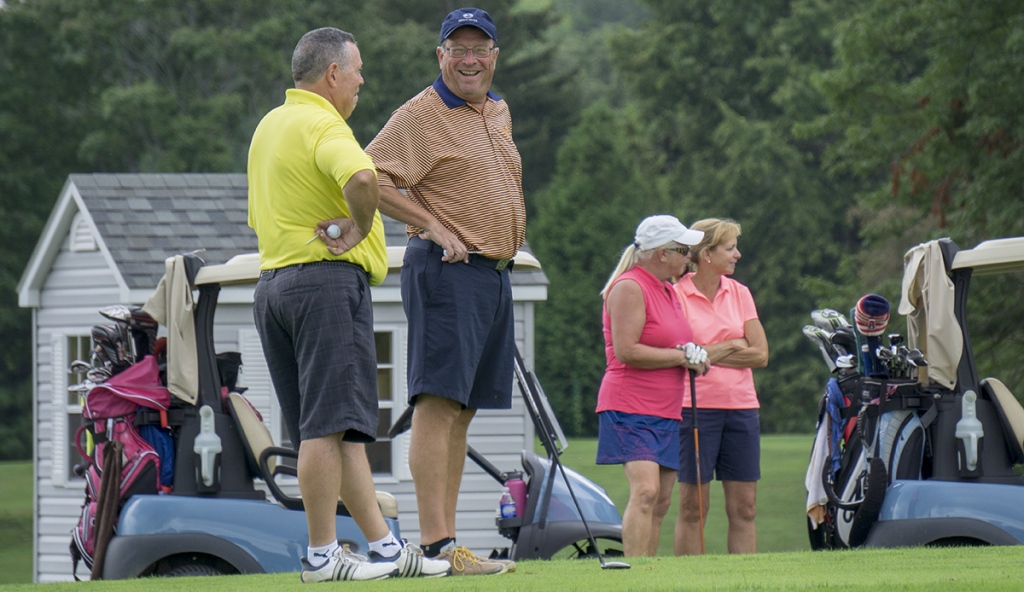 Our passionate community of members around New York is a combination of golfers who belong to one of our private, semi-private or public member clubs, or decide to join the association directly online via an NYSGA eClub membership.
Click Here to view a list of benefits included with your NYSGA membership.


ABOUT Your GHIN Handicap
Posting Scores
During an active posting season, NYSGA members should post all their scores to their GHIN number to continually update their handicap index.
Members have a few quick and convenient ways to post their scores...
1. If they belong to a member club, they may post directly on the handicap posting station.
2. Directly online via our website.
3. On-the-go with the GHIN Mobile App from any Apple or Google Play device.
If you mistakenly post an incorrect score, or find that an errant score has been posted on your account, please give our offices a call at (315) 471-6979 and we will resolve the issue for you.
Active Posting Season
Handicap posting season at NYSGA member clubs begins on April 15th of each year and runs through October 31st. During the active posting season, golfers should post their scores via their GHIN number (handicap index) to keep an updated and current index. No scores should be posted outside of the active posting season in a given territory.
For example, golfers CAN post a score from a round played in Florida during December. Why? Because even though you keep your Handicap Index in New York, it is still an active posting season in Florida during December. If you had (somehow) played a December round in New York, then you cannot post that score.
To see a full schedule of active/inactive posting seasons per state, click here.
Handicap Index Revisions
All NYSGA members who have both a GHIN number and active, current email on file will receive weekly "eRevision" emails with their updated handicap index, score posting history, recent NYSGA news, quick links, and more! These emails will be delivered on Monday morning of each week throughout the year as long as you are both active and your email is still valid.

If you are no longer receiving these emails, please give us a call at (315) 471-6979 so we may update your information in our system.
For additional resources, visit our handicapping homepage.
Playing Opportunities FOR MEMBERS
NYS Championships
Each year, the NYSGA conducts sanctioned state amateur golf championships around the state to declare the top amateur golfers in each age, gender, or category within New York.
In 1923, the Association conducted its first championship, the New York State Men's Amateur Championship. Ninety-six years later, the NYSGA's championship schedule has grown to 17 state amateur championships for all ages and genders.
To find out information on eligibility, qualifying or how to register for an NYSGA championship, visit our policies and procedures page, along with each individual championship's event page.

You can find our complete schedule by clicking here.
NYSGA Amateur Series
This annual series consists of individual handicapped stroke play tournaments (gross and net) administered at top private and public member clubs throughout upstate New York.
These one-day events are a great opportunity to compete against peers at a similar skill level, gain exclusive access to premier private clubs and facilities, play in a competitive format (in both net and gross) under the USGA Rules of Golf, and most importantly, develop relationships with fellow golfers from around New York.
During each tournament, players are broken down into divisions (Men's, Men's Senior, Women's) and then into flights based on the number of participants in a division and each player's handicap index. Within those respective divisions/flights, players have the chance to place, in either gross or net, and earn pro shop prizes as well as a chance to earn a spot at the season end championship.
To learn more about the Amateur Series, click here.


Communications
Your NYSGA membership includes email communications and updates regarding all the latest golf related news in New York State, exclusive member offers from our partners, and coverage of our 18 championships, USGA qualifiers and Amateur Series events.
In addition to the weekly eRevision update emails, all NYSGA members will receive the NYSGA eNewsletter, that includes the latest golf news and updates in New York each month!